In June, Into That Howling Infinite published a piece that discussed a subject that was causing many conservative commentators to lose their beauty-sleep:  Western Civilization and the long dark tea-time of The Australian's soul.  I wrote at the time:
"Australia's national broadsheet (that is, published nationally rather than in a particular state) The Australian, owned by expatriate Rupert Murdoch's News Corporation, is indulging in a mighty bout of shadow boxing on the subject of whether or not western civilization is or isn't in decline in our antipodean Elysium. Shadow boxing in the sense that it preaches largely to the converted on a subject that is close to the heart of its opinionistas, and of little consequence to the public at large. Its adversary is that will 'o the wisp otherwise know as the 'green-left' that has set up a virtual red commune in the our universities and the soviet that is our national broadcaster. Take the question of whether the Australian National University should have accepted money from a private body to establish a course in Western civilization aimed at educating a new generation of potential movers and shakers in the cultural foundations of our society. This argument has swept the pages of the conservative media like a wildfire with, it must be said, more heat than light. In the outrage industry it is hard to recall an episode that has generated, well, more outrage".
As an hour of reckoning draws closer with respect to the Ramsay Centre's intellectual monument to the virtues of Western Civilization, The Australian is still battling its demons with its staunch defense of this noblest of causes. None more resolutely than its latter-day Madame Défarge Janet Albrechtsen whose succinct summary of the academic left's opposition to the course is : "White: bad. West: evil. No learning, no debate but lots of unshakable victim-hood".
Since the phoney "culture war' erupted six months ago, clearer heads have outed the motives of the opposing teams. The left thinks members of the Ramsay board, such as former prime minister Tony Abbott, are using it as an ideological Trojan horse, a nag that is Anglo-centric, Christian, white, and, predominately, male. The right considers the the opponents' outrage is yet more more evidence that left-wing group think has overtaken our university campuses. And yet, even without the controversy sparked by the Ramsay board's perceived politics,  there is nevertheless unease among some academics about creating a new course focusing on Western and mainly antique works whilst Australia's community becomes increasingly multicultural and socially polyglot.
This piece takes up where the last left off …
When negotiations between the Ramsay Centre an the Australian National University down last  May, the prestigious University of Sydney entered the ring. In June, one of The Australian's Inquirer's editors must have thought, "perhaps we ought to get someone with intellectual heft to have a shot at this", to which another replied, "Hey, why don't we get the professor to write something?" So they call 'national treasure' historian Geoffrey Blainey and ask him to put his epaulette-laden shoulder to the conservative wheel. The good professors thinks, "Blimey! I don't have much to say about this storm in a tea cup, but to keep The Oz happy and earn some beer money, I'd better rustle something up".
And so we got another couple of thousand word in defense of the, well, by now tired old debate, as the acclaimed conservative historian weighed in with a longish piece that actually added very little to this bonfire of the inanities. He did, however, make a few interesting but with regard to the subject at hand, irrelevant observations.
"Nothing has done so much to transform the world in the past 400 years as Western civilisation. It is a main cause of the rise of democracy, the spread of education, the dissemination of Christianity to new continents and the flowering of various fine arts. Yet another gift — thanks to Western medicine — is that billions of human lives are enhanced and prolonged. These gains are part of what we call Western civilization. Yet this is the civilization that most Australian universities are ceasing to study in depth or, if they do study it, often reach hostile or unsympathetic conclusions.
"Much of (the ANU's) income is from Asian parents who attach invisible strings to their financial support. Chinese citizens might not send their sons and daughters to the ANU if it preached worrying messages about China and its history, and various other overseas citizens would be offended if Islam were heavily criticized in ANU lectures … It was little known until this month that one ANU department received large sums from Turkey, Iran and Dubai. Would the same money arrive next year if Israel suddenly became the more favoured nation in ANU books and articles?"
"But Western civilisation is not Eurocentric. Even in origins it owes a heavy debt to the Old and New Testaments — and they are Asian, not European, books in origin…The fact is that science and technology dominate the mainstream of Western civilisation, and they are the dynamic, not conservative, fields of knowledge. A … course in Western civilisation cannot be confined to Europe. Printing as an infant technology came from East Asia to Europe, where it was improved, with dynamic effects. The Protestant Reformation of the 16th century, one of the ultimate mainsprings of democracy, owed much to the printing press. The slow rise of democracy and the rise of mass education owed much to the printing press and cheap paper.
"There are few grounds…for the idea that a Ramsay-type course simply would be preaching the benefits of Western civilisation. It will gain legitimacy only if it weighs on the same scales the defects as well as merits of the changing civilisation in which we live".
A week later, the cauldron was bubbling stilll. This time, it was the turn of Greg Sheridan, Cardinal Pell admirer, Tony Abbot aficionado, devout Catholic nostalgist, but otherwise competent and cogent veteran writer of foreign affairs. And former NSW premier, ex-foreign minister, American Civil War tragic, and longtime bush-walker Bob Carr, a self-confessed interrogator of "the canon" who surrendered the premiership out of ennui. We publish Sheridan's artiucle below, after that of the good professor.
But first, welcome reality checks by the Herald's Jacqueline Maley and Jordan Baker.  In short, our hyperventilating culture warriors ought to get out more often and hang out with the oi polloi.
Jordan Baker, Education Editor, 27 October 2018
If negotiations succeed, the first of the University of Sydney's Ramsay scholars will file into their classrooms in February 2020. There will be six to eight of them in each class, mostly fresh-faced 18- and 19-year-olds armed with sky-high ATARs, big dreams, and dog-eared copies of Homer's Iliad, which is usually the first text dissected in a course on Western tradition.
They'll chat about their selection interviews, their scholarships – up to 40 of them will get about $30,000 a year – and the other subjects they are studying. They may well talk about the outcry over their course, too, which probably intensified as their first day drew near; everyone they know would have had an opinion on their controversial choice of major.
They will graduate three years later with what the chief executive of the Ramsay Centre for Western Civilisation, Simon Haines, believes will be an education "in the old and important sense. What this course is supposed to be teaching you is to be a more thoughtful, more reflective, more articulate, more authentic, more self-possessed citizen, parent, friend, or member of the community."
Negotiations may not succeed. The University of Sydney last week revealed the terms on which it would accept the Ramsay Centre's millions, but there's no guarantee the centre's board, led by former prime minister John Howard, will agree to them. If it does, the university will begin drawing up a curriculum for the first significant Great Books course in Australia.
Such courses are an American creation, established in the 1920s to revive the concept of a broad education amid increasingly narrow focus on disciplines. Many have survived; there's Columbia's Core Curriculum, Yale's Directed Studies, and Reed College's Humanities 110.  "The great book model was founded on the idea of independent thinking," says Salvatore Babones, a US-born assistant professor in sociology at Sydney University.
Students discuss the themes that have recurred in great works of literature from "Plato to NATO" across philosophy, history and literature. They might discuss the concept of duty as argued by Aristotle, Cicero and Immanuel Kant; or revenge across The Iliad, Othello and Milton's Paradise Lost.
Their teachers use the Socratic method. "Students are encouraged to disagree with each other with the gentle mediation of an experienced teacher," says Haines. The classes are intellectually intense and so small that they leave nowhere for students to hide.
Some Great Books courses don't want specialists teaching texts, and might enlist a philosopher to teach Thucydides' History of the Peloponnesian War, for example, instead of a Greek historian. "A specialist wants to get into discipline-specific debates," says  Babones. "But the idea is not to get the 'right' understanding of the book, it's to explore the book." St John's College in Annapolis in the US, which teaches only Great Books, believes that providing historical and social context is ideological, and unnecessarily distorts students' independent thought.
But like Ramsay's proposed course, US liberal arts courses have faced controversy. In the late 1980s, protesters argued that Stanford's Western civilisation courses perpetuated European and male biases. Civil rights activist Reverend Jesse Jackson joined protesters chanting, 'Hey hey, ho ho, Western civ has got to go." Stanford cut the course,  and an attempt by conservative students to reinstate it two years ago failed. More recently, students at Reed University protested in Humanities 101 lectures, arguing the course is too white, too male, too Euro-centric, and ignored how the texts might been used to perpetuate violence against people of colour.
Great Books courses are not entirely new in Australia;  Sydney University already has one. But it is open only to Dalyell Scholars, elite students who've achieved an ATAR of 98 or above. Students can study it for two semesters, reading 12 texts over the year. A Ramsay-funded course would be far more ambitious, says Professor Peter Anstey, a senior advisor to the university during negotiations with the Ramsay Centre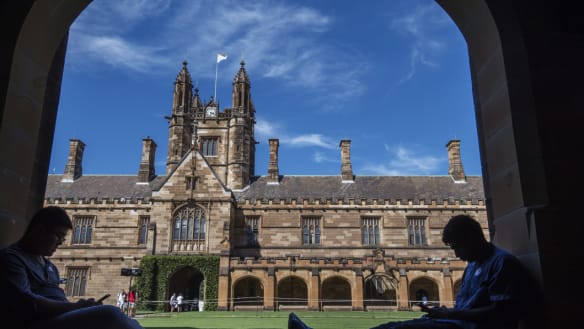 Instead of 12 texts over one year, there would be 30 over three, with the option of an honours year. "What we are proposing is an undergraduate major that is six times the size of that [existing] course," he says. "If we did get funding, our course in Western tradition would not just be a Great Books course. We would also teach students the skills for analysis and interpretation and so on. It's a quantum leap from what we are currently doing." The university would use subject specialists, some of them inter-disciplinary, to run the courses' tutorials. "However, it might all fall over," Anstey says. "We don't know."
When the Ramsay Centre first invited Australian universities to apply for two or three Western civilisation degrees late last year, funded from part of a $3 billion bequest from late healthcare magnate Paul Ramsay, it posted an example of a potential curriculum on its website. The University Sydney would draw up its own, but Ramsay's is indicative. Students would begin with Homer, Sappho and Euripides, then move through the classical historians to Chaucer, Augustine and Machiavelli. In later years they would study Marx, W.E. Du Bois, and Patrick White. They would study female writers, but only a handful including Virginia Woolf and Jane Austen.
Some Sydney University academics don't think much of that curriculum. "It's largely about the conversation between modern English and German writers about the Graeco-Roman classics," says Bruce Gardiner, a senior lecturer in the Department of English. "However much the university may massage the syllabus, its version would still be measured by the centre against its own version, which is neither cogent nor disinterested."
Details of a Sydney University-Ramsay partnership are yet to be nutted out and hang on the Ramsay board's decision, which could be weeks away. But an initial agreement with the Australian National University – before the negotiations broke down in May amid claims from ANU that Ramsay's demands would interfere with academic independence (a claim denied by the centre) – illustrates what it might look like
Not everyone agrees. Gardiner believes the scholarships are iniquitous. "The fundamental educational principle of equal opportunity would be entirely undermined were some to be treated, in this way, as more equal than others," he says.
Partly because of the ANU scandal, the proposed partnership between Sydney and Ramsay has become mired in a culture war. The left thinks members of the Ramsay board, such as former prime minister Tony Abbott, are using it as an ideological Trojan horse; the right considers their outrage more evidence that left-wing group think has overtaken campuses. But even without the controversy sparked by the Ramsay board's politics,  there is still unease among some academics about creating a new course focusing on Western works while Australia's community becomes increasingly multicultural.
Ahead of a speech on Australian education in China next week, Dr Nicholas Jose, professor of English at the University of Adelaide, has been thinking about the texts he would include in a Great Books course that reflects the ethnically diverse Australian community of 2018. He would begin with Aboriginal song poetry. "That raises the question of 'what is a book?'" he says. "This is literature that was oral literature for many centuries before being written down and translated". He would include texts from the Indian Sanskrit tradition, China's Confucius, and the world's first novel, the ancient Japanese Tale of Genji by Murasaki Shikibu. "Then there's the literature of the southern hemisphere more broadly, whether it's J.M. Coetzee's Waiting for the Barbarians or great writers of Latin America," he says.
An Australian Great Books course should be more ambitious than those on offer in the US, but "also specific to the questions of Australian civilisation in the 21st century," says Jose. "Of course, the same themes apply in the thinking and literature of these other cultures – ambition, revenge, power, politics, greed, passion, love."
Sydney's deal with the Ramsay Centre might never come to pass. Even if the board accepts the university's conditions – changing the name 'Western civilisation' to 'Western tradition', and giving Ramsay fewer rights on scholarship and academic appointment committees than other donors to reassure staff of the university's academic independence – there is no guarantee the arts faculty and academic boards would approve the university's proposed curriculum.
Ramsay's millions might end up at the University of Queensland, which is also interested. Or nowhere.
Professor Haines believes part of the resistance to Ramsay's proposal is unease about introducing a concept that is unfamiliar to Australia's academic landscape. But he believes it's necessary. "We need more diversity, and more variety, and more different approaches in the university sector, as many in the humanities say themselves," he says. "[We need] to reintroduce this kind of concept of a rounded education at a time when the pressure is ever stronger to make university e
---
Academic freedom, freedom of speech, the right to be a bigot that former Attorney-General George Brandis so famously advocated – the fight for such liberties is a luxurious hobby for people who have all their basic needs covered.
I have a hunch that the people who have enjoyed the greatest personal freedom the modern world can offer – those with money, freedom of career choice, and few caring responsibilities at home – are the ones most pre-occupied with freedom-based culture wars.
That doesn't mean these freedoms are unimportant, on the contrary.  It just means we need to be hyper-aware that the people with time on their hands to fight for them are highly unlikely to be representative of the mainstream.
Meanwhile, most Australians, preoccupied with paying mortgages, raising children, worrying about looming HECS debts or laughing with incredulity at the impossibility of buying a home have their views consistently misrepresented by people with an ideological agenda.
Recently we have seen this dynamic play out over a few very important issues.
The Ramsay Centre/Australian National University debacle is perhaps the most infuriating example of the gaping chasm between mainstream values and the agenda pushed by cultural warriors.  The Ramsay Centre for Western Civilisation, funded by a bequest from the late billionaire Paul Ramsay, had been in talks to finance a Western Civilization degree at the Australian National University.
Then Tony Abbott wrote an article for Quadrant magazine. The piece is well argued and worth looking up, if only because it reads like Abbott had been binge-watching Dead Poets Society before he wrote it. In it, Abbott explains the Ramsay Centre is not simply "about" Western civilisation but "in favour" of it, and asserts that "respect for our heritage has largely been absent for at least a generation in our premier teaching and academic institutions". This statement is as false as it is sweeping, and proof, if it was needed, that Abbott is out of touch with what is being taught in iversities.
Crucially, Abbott also wrote that "a management committee including the Ramsay CEO and also its academic director will make staffing and curriculum decisions" for the new degree, which was wrong, insomuch as it had not been agreed upon. Abbott's article helped cripple the negotiations, which were at a delicate stage when it was published.
But what truly killed the deal was the imposition that the centre wanted to make on the academic freedom of the university. ANU chancellor Gareth Evans and vice-chancellor Brian Schmidt wrote this week that: "We took our decision for no other reason than the centre's continued demands for control over the program that were inconsistent with the university's academic autonomy."  They said the Ramsay Centre had "an extraordinarily prescriptive micro-management approach to the proposed program" and most extraordinary of all: "the centre has gone so far as to insist on the removal of 'academic freedom' as a shared objective for the program".
In his Quadrant piece, Abbott quoted a Tennyson poem on Britain as a land where "freedom slowly broadens down from precedent to precedent". Such freedom stops when you have the culture police sitting in on tutorials to make sure the professor stays on message.
The 2018 Lowy Institute Poll
showed 84 per cent
of people agree that "the government should focus on renewables, even if this means we may need to invest more in infrastructure to make the system more reliable".  This is up from 81 per cent last year.
Likewise, the vote of the federal Liberal Party executive to "privatise the ABC", the latest step in an anti-ABC campaign based on criticisms the broadcaster is a swamp of left-wing bias, only shows how out-of-step the executive is with average Australians.
The Roy Morgan MEDIA Net Trust Survey, published this week, shows the ABC is Australians' most trusted media brand, followed by fellow public broadcaster SBS, with Fairfax Media, the only commercial publisher in the top three, coming third.
Finally, the campaign to change section 18C of the Racial Discrimination Act, which occupied the culture warriors for half a decade, was one of the most marginal of their un-Australian causes. A Fairfax-Ipsos poll taken in March 2017, amid the second round of debate over the section, showed
78 per cent of Australians
opposed legalising speech that "offends, insults or humiliates" on the basis of race.  Most trusted Brandis; 84 per cent; 78 per cent – they are the kinds of polling results politicians can only dream of.
Australian values, mainstream values, the values of Western civilisation that we have been hearing so much about lately: they are too important to be hijacked by men (for it is mostly men) who have too much time on their hands and little care for what most Australians actually believe in.
Let the culture warriors play their Boy's Own war games over academia, free speech or even climate policy.  But not for a minute can they tell us, with a straight face, that their views represent "mainstream Australian values".
Australia's universities are themselves creatures of Western civilisation. But many of their leaders refuse to teach or debate the history and the essence of their civilisation.
When some reply that they are independent and cannot possibly handicap themselves by accepting a big sum of Ramsay Centre money, then maybe they should devise their own courses.
Several vice-chancellors convey the strong impression that they are less interested in the vast sweep of Western civilization than in being the king of their own impressive castle. We must have academic autonomy, they say.
Australian National University vice-chancellor Brian Schmidt seems to be doubting his own civilisation. He is a great scientist, and our nation is lucky to have enticed him away from his fast-moving Arizona-Harvard escalator of fame.
His field is astronomy and astrophysics, and if this year in Canberra his university had been offered a huge Chinese grant for that domain of research, he would have turned on all lights and telescopes to accept it. Obstacles would have been swept aside. But when offered a new course in the humanities and social sciences, and especially in history, he says no.
He is backed so far by several academic heads who say they display already in the ANU a wonderful smorgasbord of courses. But why is there no room for one more plate, a larger plate that tries to fit into one piece many fragments of knowledge?
Nothing has done so much to transform the world in the past 400 years as Western civilization. It is a main cause of the rise of democracy, the spread of education, the dissemination of Christianity to new continents and the flowering of various fine arts. Yet another gift — thanks to Western medicine — is that billions of human lives are enhanced and prolonged.
These gains are part of what we call Western civilization. Yet this is the civilization that most Australian universities are ceasing to study in depth or, if they do study it, often reach hostile or unsympathetic conclusions.
The ANU is said to possess one of the best humanities and social sciences faculties in Australia. Why are its leaders not guiding the debate?
Although they respond enthusiastically to a few media queries, their answers raise fresh questions and doubts.
Where is a thorough academic statement that covers each of the key issues? Does the university already have a wide course that covers Western civilisation and much more? Of course the university has dozens of minor history courses, but is there one that covers the wider world?
Schmidt has been frugal in his public appearances. Interviewed expertly and politely by Stan Grant on ABC television, he cheerfully played a straight bat while giving away scant information. In the end he gave the impression, mistaken of course, that he knew less about the topic than did Grant. He relied almost solely on the argument that the university must be autonomous.
Why does he think the ANU has held such a high reputation in the world? He says it is "based on that academic autonomy we have". With all respect, this seems slightly far-fetched. There is no evidence that the other 40 or so Australian universities have less academic autonomy than the ANU.
Academic autonomy, while important, can be illusory. Much of a university's income is from the federal government, with strings sometimes attached.
Much of its income also is from Asian parents who attach invisible strings to their financial support. Chinese citizens might not send their sons and daughters to the ANU if it preached worrying messages about China and its history, and various other overseas citizens would be offended if Islam were heavily criticised in ANU lectures.
It was little known until this month that one ANU department received large sums from Turkey, Iran and Dubai. Would the same money arrive next year if Israel suddenly became the more favoured nation in ANU books and articles? In light of these facts the Ramsay Centre cannot be seen as a unique threat to academic autonomy. It is easy to toss around the hallowed phrase "academic autonomy" because it implies that academics preside over that autonomy. But the council that governs the typical Australian university — and appoints the vice-chancellor, and often has a hand in appointing other high officials and even professors — includes lay members.
Traditionally citizens of some distinction, many have not attended a university but still have a welcome say in its affairs. These council members sometimes prove much superior to certain professors in judging human nature.
The chancellor — the chairman of the governing body — of a new university is appointed usually by the state government and reflects its sympathies. Some of the best known leaders of the oldest universities were retired prime ministers. Sir Robert Menzies was chancellor of the University of Melbourne and EG Whitlam was prominent on the senate of the University of Sydney.
Gareth Evans has been chancellor of the ANU since 2010 and presumably was chairman of the committee that appointed Schmidt. Before beginning his long career as a federal Labor politician and prominent cabinet minister, Evans was an excellent law lecturer at the University of Melbourne, but it was not that area of expertise that won him the honoured post of chancellor of the ANU.
There is indignation that two former Liberal prime ministers, John Howard and Tony Abbott, were on the board of the Ramsay Centre and trying to influence the university's autonomy. But Kim Beazley, former leader of the Labor opposition in the federal parliament, also was on the board during nearly all the months of negotiation. And on the other side of the debate, Evans was perfectly entitled to his say. It is unlikely Schmidt would have made a decision about academic autonomy without close consultation with his chancellor. As I was once the chancellor of a new university, I glimpse the unwritten rules and conventions.
Evans, being overseas, remained out of sight in this debate but his views were briefly and eloquently quoted in The Australian Financial Review: "Great universities are fiercely defensive of their autonomy, and alarm bells properly ring when potential donors refuse, for example, to accept 'academic freedom' as a shared objective, as was the case here."
Do alarm bells sometimes ring in your head when you hear the phrase "academic freedom"? A noble phrase and worthy goal, it is sometimes scorned or misused by universities.
Should scholars retain academic freedom (and the high salary and superannuation that goes with it) when their performance as teachers and researchers fails to meet normal academic standards by a large margin? When freedom is venerated but incompetence is tolerated, the university has really lost its autonomy. Moreover, its paying students have been robbed.
The forces so vigorously opposing a new course in Western civilisation have not yet found persuasive arguments. About 100 academics at the University of Sydney, uneasy that their campus might be landed with the course, called the concept "conservative" and "Eurocentric". Here was "European supremacism writ large". But Western civilisation is not Eurocentric. Even in origins it owes a heavy debt to the Old and New Testaments — and they are Asian, not European, books in origin.
The Sydney 100 attach the word conservative without thinking. The fact is that science and technology dominate the mainstream of Western civilisation, and they are the dynamic, not conservative, fields of knowledge. A Ramsay Centre course in Western civilisation cannot be confined to Europe. Printing as an infant technology came from East Asia to Europe, where it was improved, with dynamic effects. The Protestant Reformation of the 16th century, one of the ultimate mainsprings of democracy, owed much to the printing press. The slow rise of democracy and the rise of mass education owed much to the printing press and cheap paper.
How can the Sydney 100 view Western civilisation as simply a European phenomenon or a woeful example of white supremacy?
There are few grounds, in any case, for the idea that a Ramsay-type course simply would be preaching the benefits of Western civilisation. It will gain legitimacy only if it weighs on the same scales the defects as well as merits of the changing civilisation in which we live.
I agree that universities have to be cautious. With much to be proud of, they have much to defend. Major earners of export income and supermarkets of knowledge, they closely watch their competitors at home and overseas. Every year they must woo a new procession of customers, from Shanghai to Gundagai.
Like huge corporations, they have to steer clear of the more damaging kinds of controversy. A harsh headline in the morning paper, an exposure on evening television news, the threat of a parliamentary inquiry, all have to be avoided.
Big decisions that were once made by a variety of specialist scholars, after much debate, are now made quickly and defensively on high.
You can bet your life that if this inflammable topic had come up for discussion in the late 1940s, in the small universities of that era, the debate would have been intense in tea rooms and lecture theatres. A surprising facet of the Schmidt debate is that it is taking place less in the ANU than in the media. And the university is not yet winning this debate.
If I understand the contents of the proposed course in Western civilisation, I would suggest that it does not go far enough. Many critics see the proposed course (which they mostly have not read) as a hostile invasion of Canberra on a wide front. But the teaching course proposed by the Ramsay Centre and rejected by the ANU is notable for its modesty. Perhaps that was the wisest path when approaching a university that ultimately has proved to be sceptical.
So many of those who reject Western civilisation are cultural offspring of the 1960s. They deplore the recent history of the environment and they rejoice in the rise of feminism, the campaign against racism and the crusade for civil rights. Especially in the 60s and later decades, they rediscovered the Aborigines and their lost history.
No university in the nation can equal the role of the ANU — and its celebrated researchers such as John Mulvaney, Jim Bowler, Rhys Jones and others — in unveiling the long and often ingenious story of Aborigines.
Without doubt these new teachings revealed weaknesses in Western civilisation, but many present-day scholars exaggerate. They minimise the benefits of Western civilisation and forget the gains.
They forget to report that Australia was sometimes a trailblazer globally. This was the first nation in the world to allow women not only the right to stand for parliament but also the right to vote.
These critics actually enjoy the fruits of the Western civilisation that they deride. Unlike their great-grandparents, they had the chance to study at secondary school and university, largely through dramatic improvements in the standard of living. It was Western civilisation and its genius in multiplying wealth and leisure that gave them this opportunity.
In the 90s I coined the phrase "the black armband view of history". The phrase is still valid. Too many educated Australians feel guilty or ashamed about their nation's past. Admittedly there is much to regret but there is far more to be praised.
If the ANU were defending a majority ideology and viewpoint, we might have to pay more attention to its arguments. But an opinion poll conducted this week shows that most Australians, whether Labor or Coalition voters, appreciate Western civilisation. The only major political viewpoint that is often opposed to Western civilisation is that of the Greens.
Until recently, John Warhurst was a professor of political science at the ANU. Discussing the Schmidt affair on the basis of his wide experience of universities and their politics, he concludes pragmatically: "Universities should be left to make their own decisions so long as they are consistent, pluralist, transparent and willing to explain themselves in the public square."
This is the problem facing the leading university in Canberra. Its leaders have so far been unable "to explain themselves in the public square".
---
Greg Sheridan, The Australian, 30th June 2018
Australian philanthropists, anyone who has accumulated a little extra money and would like to ­donate it generously to make a difference, should no longer consider giving any gift to an Australian public university in the field of ­humanities.
In the physical sciences, and mostly in the learned professions, our public universities are still good. But if you have any interest in or concern for Western civilisation, and all the treasures of human wisdom and insight involved in that vast, sprawling, critical and magnificent tradition, stay away altogether from our public universities.
If this tradition is to be creatively explored, renewed and understood, indeed intelligently criticised, it will happen outside our public universities. Pockets of excellence remain in the humanities in public universities but overall they are on an ideological path of narrowness and anti-intellectualism, and they are getting worse. Their university administrations will certainly never reform them.
This is the inescapable conclusion from the extraordinary opinion piece penned by Australian National University vice-chancellor Brian Schmidt and chancellor Gareth Evans to explain why they suddenly ended negotiations with the Ramsay Centre for Western Civilisation, which had offered huge donations to set up a degree based on the great books.
Such courses are common in the US. But in Australia only the small Campion College runs such a great-books-based program to an accredited degree level. (Full disclosure: I have been a visiting fellow at Campion, as I have been at sandstone universities.)
Schmidt and Evans made various allegations about Ramsay seeking improper control that were rebutted the next day by the centre's chief executive, Simon Haines. Haines was at the meetings. Schmidt and Evans were not. Haines, and Ramsay board members John Howard and Tony Abbott, quoted ANU documents on its website to support their case that these disagreements were not serious until ideological political opposition emerged at the ANU. Schmidt and Evans have now offered a counter-narrative that also seems plausible.
However, it is not important to adjudicate who is giving the more accurate account. Schmidt and Evans make one crucial statement: "The Ramsay Centre for Western Civilisation simply did not trust the ANU to deliver a program acceptable to it." If it is to succeed with other public universities, Schmidt and Evans argue, "it will have to change its approach".
I don't know if the Ramsay people agree with those propositions but I think Schmidt and Evans are right. No vice-chancellor in recent decades has stood up to on-campus far-left pressure. Ramsay is in negotiations with the University of Sydney. I have no doubt that if it embarks on a program there it will effectively be flushing its money down the toilet.
More than 100 Sydney University academics signed a protest letter against the prospect of Ramsay coming to their campus that declared: "The Ramsay programme represents, quite simply, European supremacism writ large."
If a Ramsay Centre is established at Sydney it will be at best an embattled outpost surrounded by hostility and controversy. It will be at any moment subject to crippling demonstrations. It will wilt and die in the hostility or, more likely, be taken over in time by the educational left, the normal fate of any such conservative effort.
The grotesque inversion of normal standards in allowing the department of peace and conflict studies to be a throbbing principle of political activism, but expressing horror that someone in academe might have some genuine appreciation of Western civilisation, reveals the deep reality of Sydney Uni today.
The educational left is also politically left, but the bigger problem is the pedagogic and epistemological nature of the dominant view in humanities departments. This is not a distinctively Australian phenomenon. As is normal, our left-wing intellectual revolutionaries are completely derivative of US and British trends. Nor is this something conservatives made up to scare innocent children.
Let me offer you three random examples. The Economist, a socially liberal magazine, in its Bagehot column last week commented, entirely in passing, that an Oxbridge education "disposes people to despise their own country".
Niall Ferguson, one of the great contemporary historians, recently lamented the systematic way the educational and political left have moved through mainstream Western university departments and taken over every new position. They are ruthless about appointing like-minded people who sign up to broadly sympathetic ideological approaches.
Mark Bauerlein, professor of English at Emory University in Atlanta, in a recent Australian interview suggested the effective suppression of the great books has become so ubiquitous and entrenched, yet their appeal is so timeless and magnificent, that they will survive now only through new courses springing up outside traditional departments.
Confronting the stark reality that you can no longer enjoy the prestige of the traditional institutions, no longer rely on them to do the job, that you must support the newer private institutions or undertake the herculean task of creating new institutions, can be bitter, especially if you like the quiet life. But you will never reach your destination if you don't start your journey from reality.
The ANU says it has more than 150 courses concerned with Western civilisation. Yet as my colleague Rebecca Urban has reported, many of them approach their subject through the cliched lenses of class, race and gender as rendered by contemporary cultural theories.
The Institute of Public Affairs did a simple word search of the course description material and found that none of them mentions Dante Alighieri or Thomas Aquinas. It is not possible to understand the development of Western civilisation without understanding such figures. And of course there is no sense of a coherent integrated exposure to the development of Western civilisation.
There are two fundamental problems with humanities departments in many Western universities now — their content and their intellectual methods. Both have been overwhelmed by critical theory and postmodernism.
Postmodernism regards all traditional historical narrative as false, while critical theory denies the very reality of objective facts. Both are mired in a series of interlocking cliches and dogmatic assertions about gender, class and race. These approaches, far from being radical, hip and relevant, have resulted in massive decline across the Western world of enrolments in humanities.
Partly this is because these approaches render even beautiful texts horrible to read. When your analysis is fixated on a frequently fictional and highly tendentious a priori evaluation of class, gender and race, you don't really read the books at all. It doesn't matter whether you're analysing Shakes­peare or a restaurant menu, you can come up with the same theoretical analysis games.
Much that passes for humanities study in Western universities now routinely convicts the West — both Western societies today and the West more broadly throughout all its history — of five capital ­offences.
One, chronic, structural, irredeemable injustice in the economic order.
Two, always and forever being sexist, patriarchal and, most recently, destructively and oppressively heteronormative.
Three, pervasive racism in every aspect of their power structures.
Four, inherent and intrinsic militarism.
Five, false consciousness, imprisoning a supine public in unjust and wickedly untrue meta-narratives, which are themselves instruments of oppression.
Naturally, in the history of Western civilisation all kinds of crimes and injustices were committed, as in the history of every other civilisation. That is the nature of the human condition. The intellectual dialogue that students would engage in by studying a traditional great books course would be a thrilling journey of humanity trying to come to grips with questions of meaning and justice.
The idea that such a course is inherently triumphalist or all about European supremacism is a grotesque parody, a kind of kindergarten argument of stupefying misrepresentation of the contents of the Western canon itself.
It is not necessary to subject the great books of Western civilisation to the depravity of critical theory to imbue students with critical thinking. The great books do that themselves.
For example, Dante wrote his Divine Comedy in the early 14th century. During the Middle Ages there was a robust dialogue between popes and princes about the limits of political power and spiritual power. Pope Boniface VIII claimed a rather excessive degree of spiritual and temporal authority over all rulers. Partly as a result, Dante rather unkindly puts him in the eighth circle of hell.
If you actually engage with the great books, and read them before consigning them to a sterile theoretical subcategory of mind-numbing tediousness, you will find every critical faculty exercised and challenged. Human rights did not begin with the UN declaration after World War II but were at the centre of a great rolling theological and political dialogue. From the start, the Western tradition, profoundly influenced by Christianity, grappled with the evil of slavery. Many Christians stand rightly accused before the bar of history as slave owners. But many Christians denounced slavery.
Gregory of Nyssa, a 4th-century bishop, delivered a sermon in response to a rich man's boast that he had bought slaves. Gregory asked: "For what price, tell me? What did you find in existence worth as much as this human nature? What price did you put on rationality … If he is in the likeness of God and … has been granted authority over everything from God, who is his buyer, tell me? To God alone belongs this power; or rather, not even to God himself. For His gifts are irrevocable."
One of the worst ways to teach Western civilisation is as isolated bits and pieces without ever seeing the integrated, connected nature of Western thought. The West, uniquely, developed experimental science because of its theological views of nature. God was sacred and nature was natural. Nature didn't embody warring or capricious demons. It was good, as Genesis had proclaimed. And it embodied order, as a reflection of divine order. The desire to discover the secrets of that order led to experimental science.
In an act of vandalism and cruelty, of neglect and foolishness, we are hiding from our young people all the fun and adventure of the great books, all the grandeur and excitement, all the drama and passion of the Western canon.
We will never recover it at our public universities. Better to recognise that, and make a start somewhere else.
READ MORE : Why we rejected Ramsay CentreGARETH EVANS, BRIAN SCHMIDT; Western studies, with a twistREBECCA URBAN
Comments made in response to Sheridan's article:
Yes. And Ramsay should walk away from the Public Unis and leave them to wallow in their ideological sewers. The left is nothing if it is not railing against something. Leave the academics to rail against themselves as is happening in the feminist movement and amongst the gender warriors where now all men are rapists and all women are victims. Normal people regard this as tiresome and are keen to see it unravel. At Unis before too long the public will demand that the students get an education, not an indoctrination. The Lomberg nonsense was a good start. Now it is Ramsay. Soon it will just unravel when miserable self loathing old lefties like Evans and a few thousand other 60's and 70's "revolutionaries" leave the trough.
It is difficult to see what we have understood as 'western' civilization lasting for many more decades, for both ideological and demographic reasons. We are now ideologically committed to multi culturalism, by which we mean, not having a plurality of cultures, but equating all cultures as of similar value, therefore forbidding critique. That's hate speech. The exception is being super critical of our own past, and of the Christian influence within it. This leveling of cultures, is, in my view, non sustainable and illusory. Whilst secularism predominates, it lacks coherence and fails to satisfy deeper human needs. What will rise to the top? Whatever it is, it will be totalitarian in nature.
I am more optimistic. I dont think even the disillusioned millennials want totalitarianism. They are just disappointed with the pathetic leaders recently thrown up by democracy. But I think it is a cycle. There is evidence of the people in the west demanding values based leadership. Some of their choices are experimental and enigmatic and flawed, like Trump, but they presage change. The tired old mixed up sexual revolution generation (like Evans) is dying out literally, and that is great.
Universities should be redefined as "insular institutions for the social conditioning of young people, the propagation of ideas that don't work and the defence of values-less stupidity."
The bottom line is that publicly funded institutions HAVE to be accountable to the various Acts that require Universities to have open discussions. They are not there for themselves but for the people of Australia.
An audit to measure compliance is overdue. Funding will have to hinge on whether these institutions are fulfilling their PUBLIC duties and obligations full stop! We pay the taxes that fund these places.
Simply replace 'Univesities' with 'ABC' and it explains why nothing will change.
What has really annoyed me over the last week or so in reading all the articles & opinion pieces here is the way that the perpetually outraged have reduced this matter to a bomb throwing exercise between the "We love Tony fan club" and "everybody else". The whole thing has been hijacked by the Abbott fans as another weapon in their war on the Liberal Party. Now I am not a supporter of Abbott as a politician although I freely admit being an admirer of (most of) his religious and family values and I am not sure if in fact he had anything to do with the material content of this course of study. I just wish that the Editor of The Australian had not allowed this matter to be hijacked as a populist political issue for the sake of clickbait, rather that the Editor had encouraged a far more nuanced academic debate such as this article by Mr Sheridan. I don't pretend that I would have understood the arguments from either side but I would have enjoyed reading and trying to understand them.
Yes Conrad, "it's time to move on". When  I see that phrase I know its NOT time to move on, unless you like to join the other leemings heading for the cliff of great social equality and diversity utopia. Prepare for the mass destruction mate, you'll be the first to suffer.
If the post that I have just made is actually posted Barbara, your post is a perfect example of what I have just said.
Perhaps the 100 Sydney academics ensconced in their insular monastic universities would have preferred that Japanese supremacism had dominated in the Second World War rather than European.
I wonder exactly what these academics contribute to our society.  I mean they don't seem to produce anything of quantifiable value as do those engaged in the hard university areas such as medicine, engineering , sciences etc (although recent revelations indicate that some have been infected with the humanities plague and have rejected the scientific method). The 5 capital offences listed:  economic injustice in the economic order, sexist, patriarchal and heteronormative, racist, inherent and intrinsic militarism and false consciousness, imprisoning a supine public in unjust and wickedly untrue meta-narratives, which are themselves instruments of oppression; all of these define Middle Eastern Islamic culture, not Western civilisation.
There are other ways of framing this.  Let's assume that HECs is a way of framing Western Civilization.
Here we have the consumers deciding what they want to buy. Here we have consumers making choices. Here we have the market, distorted as all markets are, operating as it ought to operate.
Here we have a University protecting its extremely valuable brand.
Here we have the purchaser unable to debase the that brand by piggybacking on it, replete with a bit of ambush marketing.
Where do all these points come together?
Southern Cross University.
Craven wants the money and would let the Ramsay Centre do what it wants because it would do what he wants.
Abbott could have a sort of St Patrick's Seminary with some additional 'canon' texts added but without the gays, the feminists, the Marxists, the post-modernists, without Indigenous people and without global warming.
Howard could set the seal on a couple of decades of setting back the fight against global warming and a couple of decades of utter denial about the way in which Western Civilization utterly smashed the Indigenous population. Legitimacy at last!
But why will this not happen? Because, as it says in the canon of another domain, 'Money can't buy me love'.
Virtue signalling and rank hypocrisy does not buy you a loaf of bread either Pat .
If you and your ilk were in charge long enough , bread would be something only your " elite " would know anything about .
The logic of those who view western civilization through the prism of the five points Greg highlights totally escapes me.You could apply those same five prisms totally or in part to all civilizations.Surely an open mind should be maintained in examining all history and placing it in the context of the prevailing views of the time.Same applies to the recent phenomenon of apologizing for past what are now seen as injustices.Being over seventy I lived at the time when these perceived injustices were the prevailing world view and although I won't be around to see it I will guarantee in fifty years society will look back in horror to the things that we now see as mainstream, and particularly the current post modernists philosophies.
 Students doing such Western civilisation courses can learn what others have thought about the West's 2,500 years of civilisation, and apply to the current age what they've learned from the past.
Negotiations have not ended – just mere sabre-rattling.
A very good article. Maybe the most optimistic point is that enrolements in humanities are falling. These remaining students will be the left wing politicians of the future.
Spot on Greg. We need to commence the redesign and new build of all our institutions. The West can do it. We have been in this type of instability before and our young are waiting for new leadership and 'to go'.
It seems that many are unaware of the fondness for teaching 'Critical Theory' amongst left wing academics these days. From Wikipedia:
"Critical theory is a school of thought that stresses the reflective assessment and critique of society and culture by applying knowledge from the social sciences and the humanities. As a term, critical theory has two meanings with different origins and histories: the first originated in sociology and the second originated in literary criticism, whereby it is used and applied as an umbrella term that can describe a theory founded upon critique; thus, the theorist Max Horkheimer described a theory as critical insofar as it seeks "to liberate human beings from the circumstances that enslave them".
In sociology and political philosophy, the term critical theory describes the neo-Marxist philosophy of the Frankfurt School, which was developed in Germany in the 1930s."
Most often, what left-wing academics mean by "critical" is *not* critical reasoning, but merely criticising anything that runs counter to Marxist dogmas.
Well said Greg. Schmidt is a great scientist. He should have stuck to that and left university admin to someone who knows about it. As for Evans, well, he is just being his Biggles best.
A very tactful exclusion of your colleague, PVO, who supports the ANU narrow mindedness. You are right, the ANU is beyond redemption until the lefty thinkers see the error of their ways.
Both Schmidt and Evans are men of towering intellect and monumental achievement. But should they be running a university? Surely it is obvious that universities should be run by people who have established their credentials as leaders in tertiary education? Presumably people like Schmidt and Evans are appointed as bridges to the wider world. But part of the problem surely is that people of stature do not rise up through the ranks of tertiary education. Something is rotten in the state of Denmark.
Well one of them is.  Wouldn't rank Grovelling Gareth anywhere near this term.
Just on the Question of Slavery. A classic example of Revisionist Christian History. Christian England was only Second to Christian Portugal in transporting millions of slaves into the New World. Rather than some great moral epiphany, the only reason (not withstanding some isolated moral souls) England abandoned the Slave trade was the colonies had decimated her sugar trade and she sort to economically cripple them. Meanwhile England moved from the slave trade to direct oppression and plundering in India destroying a thriving economy and nation.
Slavery existed long before Western Civilisation (ask how the pyramids were built) and during & by Western Civilisation (as you point out)and finally ended by Western Civilisation (as Peter states).
But the modern Arts student at ANU will of course never hear the full story, courtesy of Evans and Schmidt. Only the Left viewpoint, as you kindly outline, allowed.
Um Oh Russ.  Suggest you read up on the history of muslim slave traders before you start ranking societies.  But of course that doesn't fit with your mindset does it.
The Liberal Party has been blind to the decades-long leftist indoctrination going on in our universities. As a student in the 1970s, we truly were taught to despise our culture and civilisation, usually through snide references and cheap mockery. To our juvenile minds, we thought that was the 'right' attitude–ie to be unthinkingly left. It's a training ground for the leftists, who then vote Greens or Labor. Why do the Liberals tolerate it? Surely not on 'free speech' grounds? Free speech at universities is only the 'freedom' to preach leftist, or worse, Marxist, doctrine.
This is why history is not being pursued. If students were taught real history they would be extremely scared of what is being preached to them by the marxists
I think, however, that there is a serious problem within the Ramsay vision of Western civilisation. Ramsay has a 'great texts' focus. This is too limited. It puts (for example) John Locke on the same level as the Bible. The latter is the fundamental 'great text' of the West. The truth is that Western civilisation cannot be taught or understood from a position wholly external to the Christian worldview. It cannot in principle be secularised.
What we are seeing today is many advocates of Western civilisation courses, including Simon Haines from Ramsay, but extending into the general public, who are thinking in terms of the Enlightenment. They are progressives, in other words, who see the West as having evolved via John Locke and other 'greats', from a benighted religious culture into the wonderful secular culture we have today. This is not going to communicate to students what Western civilisation – the real civilisation – is all about.
I would be disappointed if the Ramsay trust were to renegotiate with ANU. This worthy benefactor has really dodged a bullet. The ANU have been outed as a shameful bunch of left wing politicians that are not interested in anything academic- what is worse, is that we the tax payer fund this garbage institution that purports to be our national university
Yes. Being rejected by ANU is what my mother used to call a "blessing in disguise".
Every builder knows when termites have infested a building, you knock it down, destroy the infestation, and rebuild with strong defences. The infested structure is irredeemable. Metaphorically, universities and their academies are the same.
Well said Greg. The Ramsay Centre should focus on either private universities or establish its own, or perhaps spend money on public awareness campaigns to counter the biased rubbish being taught in our slipping Education System. Perhaps it should also donate to political parties that strongly defend Western culture and values; Australian Conservatives springs to mind!
Postmodernism projects present grievances onto the past. The objective is to undermine and destroy western civilisation. It has been fueled by the environmentalism that developed in the 60s and the scare mongering that came with global warming catastrophism. Maurice Strong who chaired the 1992 Earth Summit was a Marxist and stated: "Isn't the only hope of the planet that the industrialized civilizations collapse? Isn't it our responsibility to bring that about?" The survival of Western civilisation faces challenges not only in the social sciences and humanities but in the natural sciences where scientists who question global warming alarmism are sacked or ostracized. Look what happened to Peter Ridd at James Cook.
Unfortunately, in the 1960s/70s, when our children were in primary school, all of this was flushed away.  The readers wre replaced by a series about two modern children in the uninspiring series of "Dick and Dora", intended to make children read about things with which they were already familiar and hence, it was argued, could learn to read more efficiently.  This was rubbish of course and did not cause children to become avid readers. (fortunately in our case, their mother did that for them)   (John, Nancy's husband is writing!).
I don't want to get bogged down in the merits of Western civilisation but to identify why one inherently cannot trust an academic culture that does not recognise the benefits of intellectual diversity. Ideas should be tested from a variety of viewpoints to find truth and bad ideas changed or rejected. Karl Popper said that a theory that cannot be falsified cannot be valid. Yet vast swaths of Left orthodoxy are not allowed to be challenged because they throw up all these alleged principles that are more important than truth. On the Ramsay issue 170 Sydney University academics have now signed a protest letter that Ramsay is at odds with "promoting a society of diversity, inclusiveness, and mutual respect." Those words are not harmless motherhood statements but the Left's Trojan horses for Marxism, and they are apparently of a higher order priority to the pursuit of truth. They promote identity diversity at the expense of ideas diversity. The Left has cleverly arranged their ideology and strategies in such a way that all pathways leads back to privileging their ideology irrespective of common sense observations that they are wrong. The Left insists that they know all and that challenging them is evil because the Left also claim to monopolise all lofty morals. This arrogant, unchallenged outlook means for example that social researchers should be suspected of corruption because they are not intellectually curious but merely inventing or massaging 'facts' to fit their ideological prejudices. There is nothing new to learn, just a plan to implement. It mocks the core functions of a university. With challenge impossible academic life becomes a virtue signalling contest to be the most extreme and other-worldly. The university becomes a place of ritual like an Islamic Madrassa where they chant dogma and rock back and forth, except at the centre of this religion is worship of oneself for transcending the earthly limits of pesky obstacles like facts and reason to become creatures of pure moral essence. John Stuart Mill said, "he who only knows his side of the case knows little of that."   Antipostmodernism Stephen
Excellent comment on an excellent article. I particularly liked: "With challenge impossible academic life becomes a virtue signalling contest to be the most extreme and other-worldly. The university becomes a place of ritual like an Islamic Madrassa where they chant dogma and rock back and forth, except at the centre of this religion is worship of oneself…"