We have waited 122 years to recognize in our Constitution the privilege that we have of sharing this continent with the oldest continuous culture on earth. I say to Australians, do not miss this opportunity.
Australian Prime Minister Anthony Albanese
---
People will forget what you said. people will forget what you did. but people will never forget how you made them feel. people want to be treated justly. perceived injustices can create enmity, and enmity is the beginning of the slide towards intractable conflict.  
 Colin Tatz Reflections on the Politics of Remembering and Forgetting
---
What is going on in the mind of opposition Peter Dutton that in the belief that he's taking the fight to the Prime Minister, he picks a fight with this most formidable woman?
This excellent profile of longtime indigenous academic and activist Marcia Langton should be required reading for all supporters of the Aboriginal and Torres Strait Islander Voice to Parliament and the recognition of indigenous Australians in our constitution – and for all people of goodwill who may be wavering under the weight of conservative misinformation and disingenuousness. We've republished it here in In That Howling Infinite for folk who cannot scale the News Corp pay-wall.
When Dutton committed the Liberal Party to a 'resounding no", Langton was not backward in coming forward. she pulled no punches when she declared:
"This is the Australia we live in; it is racist. So this could be the political making of a whole lot of people who want to help us get this over the line and create a permanent system of empowerment for Indigenous people. If we want to mute racism, we have to raise our own voices. We have to make sure that we win this campaign, because if we don't, then the racists will feel emboldened. We have to have a constitutionally enshrined voice that empowers our people, regionally and nationally, to make bureaucrats accountable, and respond to representations on all policy matters and legislative matters that affect us. If we can have a constitutionally enshrined voice that's permanent, that makes us a formal part of the democratic architecture of Australia, that's how we fight racism. That's how we fight our disempowerment". The Guardian, 7th April 2023.
See also in In That Howling Infinite, We oughtn't to fear an Indigenous Voice – but we do ;The Frontier Wars – Australia's heart of darkness; and Dark Deeds in a Sunny Land – a poet's memorial to a forgotten crime  
[Author's note: At Bellingen's 2019 Readers and Writers Festival, it was our pleasure and privilege to attend a powerful "conversation" between acclaimed historian Henry Reynolds,  Marcia Langton – and, by fortunate serendipity, to share a meal with them at the Federal Hotel afterwards].
'Vote 'No' and you won't get a welcome to country again'
Marcia Langton doesn't mince words and now she's really had enough. When Australians vote on the voice, she wants them to think hard about what's at stake.
Over more than 50 years as an academic and activist, Marcia Langton has never been known to mince her words. But now the Melbourne University professor, Boyer lecturer, public intellectual and co-author of a landmark report on the Indigenous Voice to parliament and government has really had enough. When Australians go to the polls to vote on the Voice later this year, Langton wants them to think hard about what's at stake. "I imagine that most Australians who are non-Indigenous, if we lose the ­referendum, will not be able to look me in the eye," she says. "How are they going to ever ask an Indigenous person, a Traditional Owner, for a welcome to country? How are they ever going to be able to ask me to come and speak at their conference? If they have the temerity to do it, of course the answer is going to be no."
This is classic Langton – unanswerable in its logic; intimidating in its ferocity. She has always been known for her intellectual clarity and lack of compromise and at 71, has lost none of that edge. But Langton is conscious that in some ways the referendum is the last throw of the dice for her ­generation of leaders. She is in demand to talk about the Voice but will pace herself in the campaign, in part because her job as Associate Provost and Redmond Barry Distinguished Professor at the University of ­Melbourne is time-consuming, in part because there's a new group of Indigenous leaders snapping at her heels. "I want to be a less dominant voice because the younger generation must be given an opportunity to be heard on these matters," she says. "I'm not an Indigenous leader and lots of young ­people hate the concept of ­Indigenous leader because they feel cut out, they feel like they're not ­valued." She says she can understand their point of view, and then pauses before adding: "They just need to learn a ­little bit about earning ­respect for one's work."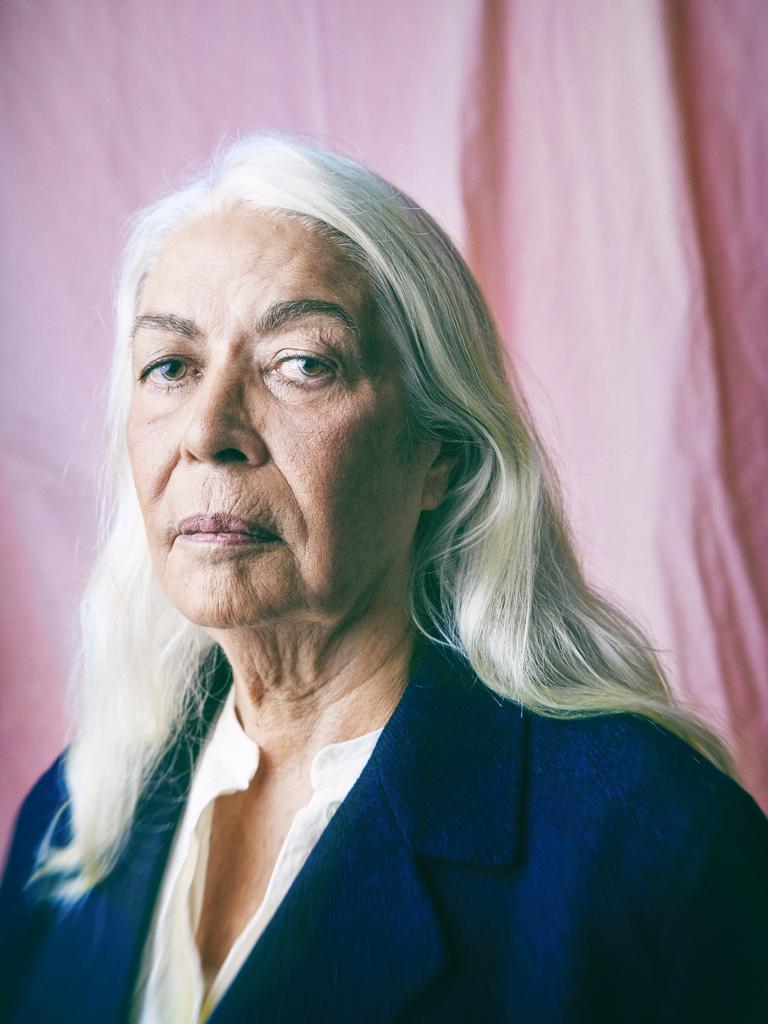 Marcia Langston. Picture: Nic Walker
Respect for her work is what Langton has earnt in spades since those decades when Indigenous people who spoke up were so easily dismissed by white Australia. One observer notes she had to "bulldoze" her way to influence. Film director and producer Rachel Perkins quips that Langton is like the Beyoncé of Indigenous ­Australia: "You say Marcia, and everyone in black Australia knows who you are talking about." To TV anchor and author Stan Grant, Langton is the "broken-hearted warrior" who, like Martin Luther King, Nelson Mandela and Rosa Parks, are "people who know the world can break you and still stand up".
Revered and feared, this mother of two and grandmother of three is criticised at times from within her own community. An example: her commitment to constitutional recognition goes back decades and has never wavered. But when she decided in 2017 to work with human rights and social justice campaigner Tom Calma to produce a report to the federal Coalition on a Voice that could be a legislated advisory body to parliament and government, it was seen by some as letting government off the hook on constitutional reform. Langton, pragmatic, persisted and produced a 272-page document that proposed local and regional voices feeding into a National Voice of 24 members. They would have the "responsibility and the right" to give advice to the parliament and government. The final ­report of the Indigenous Voice Co-design Process, commonly known as the Calma-Langton ­report, was submitted to the Coalition Federal Government in July 2021. It is now seen as the blueprint for the Voice, which under the Labor Government's policy will be ­enshrined in the constitution if the ­nation votes "yes" in the ­referendum expected later this year. Says Langton: "We want the ­principle voted on first. So that then there's time for everybody, including all the parliamentarians in the House and in the Senate, and the public to debate the model."
On March 23, when Prime Minister Anthony Albanese announced the referendum wording, Langton was present in the Blue Room of Parliament House. When she stepped up to answer a ­reporter's question it was with the gravitas that comes from a lifetime of reflection, research and ­advocacy. And defiance. And anger. And frustration. And sadness. "Each one of us here has been ­involved in a major initiative. The royal commission into Aboriginal deaths in custody. The inquiry into the forced removal of Aboriginal children from their families. The Don Dale royal commission," she told journalists. "I could go on and on. And in each case we have doggedly recommended changes to stop the deaths, the incarceration, the early deaths, and the miserable lives and it is so ­infrequently that our recommendations are adopted." She added: "And each year, people like you come along to listen to that misery-fest. And each year, people go away wringing their hands. We're here to draw a line in the sand and say this has to change."
There were tears that day, as Langton, the sophisticated political player, revealed a glimpse of the pressure she has been under since the PM used his election night victory speech in May last year to commit to the Voice.
Growing up in Queensland amid 1950s racism, the young Marcia learnt to step back and let the whites be served first in the local shop; she learnt to step aside and walk on the other side of the street from white Aussies. In her new book Law: The Way of the Ancestors, co-authored with Aaron Corn, Langton recalls attending a conference in Townsville in 1981 where she met the Torres Strait Islander intellectual, teacher and ­litigant Eddie Koiki Mabo. "He was the first person I had met who clearly articulated the fact that ­Indigenous laws exist". She writes that "by day in school I was forced to ­listen to a fantasy about Australian history and ­Indigenous ­people in ­particular". The young girl with Yiman and Bidjara heritage on her ­mother's side figured these were ­"elaborate lies". None of the people she grew up with resembled the ­"supposed 'savages' who rampaged through the pages of my school books". Queensland was a state, she writes, "where no civil or ­humans rights were accorded my people."
It was an experience of racism that fired a lifetime of work on land claims, native title, field work, right campaigns, lobbying parliament, ­sitting on inquiries and commissions, working in government and in universities. "I don't know of anyone else with her breadth of knowledge of Indigenous issues," Perkins says. "She can write about deep culture, she can write about contemporary art and film, she can write about mining and economics, about women's issues, about history, native title, treaty and of course constitutional law. She has an incredible mind."
Prominent Indigenous academic Marcia Langton says there was "no evidence" to show previous bodies aimed at improving Indigenous outcomes did not work, arguing past consultative groups and councils made "dogged"…